Clients and Customers are 20 times more likely to interact with a Robot compared to a person after study taken place at NEC – This Morning Show Exhibition.
Features
Easily Customise Your Surveys
Roams Around a Venue
Facial Recognition of Guests
Interacts with guests
Stores Survey Data for Retrieval
Survey robot hire brings you an enthralling and unique method for gathering accurate data that will help your business to thrive and grow. The survey robot is a service robot which provides an interactive and unusual way for you to collect information. The robot is able to roam around a room or events space and ask people to take a survey, linking to a collection point for data to be displayed or recorded after the event.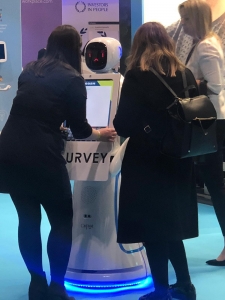 Collecting accurate survey data has, for a long time, been a difficult task. Consumers often avoid human surveyors and online surveys are notoriously inaccurate as inducements often need to be offered for customers to complete them at all. Added to that, you can never be sure that human surveyors are not inadvertently making your results biased due to the way in which they ask the questions. All of these problems are overcome by the survey robot. People are generally intrigued to be approached by a robot and asked to complete a survey, so the problem of low response is immediately solved. Interacting with the robot is an enjoyable and unusual experience, so no other inducement is needed to complete the survey. You can also trust the survey robot to be completely unbiased and ask the questions in just the way they were designed to be, so your data will be much more accurate and therefore more useful. In fact, the survey robot is designed to be the perfect survey tool.
A survey robot makes an unusual and quirky addition to your exhibition or event. As well as providing you with accurate data, the robot generates interest by its presence and provides extra appeal. As it roams around and asks your customers or clients if they would like to take a survey, the robot becomes a talking point. As a humanoid, the survey robot is able to engage and interact with people in a unique way. The large colour touchscreen is immediately attention grabbing and the human features of the robot encourage interaction and participation.
At events and exhibitions, grabbing your consumers' attention can be a difficult task. The survey robot not only engages their interest with its appearance and ability to interact; it also promotes your business in a way that no other survey method could hope to achieve. Take your customer survey experience out of the ordinary and into the extraordinary with survey robot hire at your event.
Capture vital information from your customers. Set to roam around rooms recognising faces and asking if they would like to fill out a survey.
An invaluable way to gain customers information and to improve customer relations.
Branding of the survey can suit your companies branded literature as well as on-screen video's can also be branded to suit.
The Survey can be a combination of questions, multiple choice and voting as well as specific bespoke options if required.
Utilising our unique software Eva can be programmed to roam around to pre-determined points and when she recognises a face she will interact with guests and ask if they would like to take a survey.
Combining survey's with incentives such as prizes or money of gifts ensures you can get a valuable insight into your customers views for your location or business.
For More Details to Hire or Buy, Please Contact Us For A Personalised Quote: