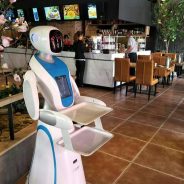 Restaurants in China have been replacing waiters with robots, however this has long been the case. Infact since 2006 robots have been used as waiters and whilst some have been better than others, they prove to be cheaper than human waiting staff. The upfront cost of approximately $1,200 per robot works out more cost efficient than an average servers salary for a couple of months.
In China, robots have been a huge hit due to their novelty factor. It is this novelty and fun factor that drives the customer visits into the restaurants. We have seen in the service industry that its all about the experience. While some may argue about the efficiency and ethicality of robots, they can't deny the attention they bring to the hospitality sector- and with this attention comes the consumer who will visit the restaurant just for the novelty of the robot.
Service Robots are have been designed to do the tasks waitresses/receptionists and other hospitality staff can do. These robots are advanced on artificial intelligence and have the ability to hots, guide and converse with people.
Servicerobots.com are excited at what service robots can bring to the UK. We may not be ready to bull dozenth market with robots like our far eastern counterparts, however robots are a great way to engage with your customers, clients and visitors. Whether you own a restaurant, a hotel, a bar or even hosting an event or exhibition, robots can be the ultimate feature that will gain a social following from all the buzz they bring.
To find out if a service robot can generate income for your business contact the team on info@servicerobots.com or call the sales office on 01384 389 317
To see the full article on the Chinese robots click the link below.
http://uk.businessinsider.com/chinese-restaurant-robot-waiters-2016-7?r=US&IR=T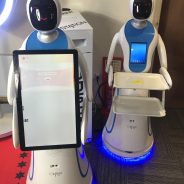 Servicerobots.com have launched their flexible robot rental service. The company based in the heart of the West Midlands has on offer Amy a waitressing robot and Amy Plus a hospitality robot. Perfect for any service led environment these robots can carry out duties such as meet and greet, food delivery, ordering, advertising, hosting, collecting data and emails whilst being GDPR compliant.
Service robots have been around for many years but 2018 has seen an increase in the number of robots purchased for the service sector. The popularity of service robots have been steady in countries such as China and Japan, however with Dubai being the newest recruit to the robot game, the service robot industry is set to reach an all-time high.
Servicerobots.com has experienced a substantial amount of interest in its Service Robots with keen interest coming from Bars, Restaurants, TV and Hotel chains. This signifies the increased enthusiasm for robotics- with key focus being the attention they create and bring leisure/hospitality sectors. With attention comes attraction and with attraction comes consumers, it's the publicity that will fuel the popularity of the robots.
With this increased popularity servicerobots.com are providing an affordable rental service starting from a 1 day hire through to a permanent purchase. Servicerobots.com are excited at the prospects robots can bring to the UK market and are providing this rental service for all business across all industries.
To find out more please visit www.servicerobots.com, email info@servicerobots.com, or call +441384 389317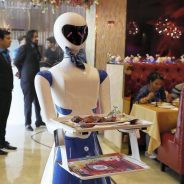 A restaurant in Dubai has caused quite a stir with its additional offering on the menu.
Ruby the Waitress Robot has been deployed at the Dubai Based restaurant, Drinks and Spice Magic, which has seen over 11,500 orders in their first 2weeks. Customers place orders via an iPad which gets automatically sent to the kitchen. Once the food is ready go the dishes are placed on the robots tray where she manoeuvres herself through the restaurant and can even greet guests and sing happy birthday.
Arif Mohammed the managing director of the 4am Group said "I want everything I do in life to be extraordinary and Ruby is no exception," he added that the restaurant sector is very competitive, other than great food and a great atmosphere what else can set one restaurant apart from another? The solution for Arif was Ruby the robot. She has created such a craze that customers are coming to the restaurant just to see her.
With the huge return on investment seen by this one robot, Mr Mohammad, who resides in Jumeirah Beach Residence, has plans to now expand his restaurant empire to 100 outlets throughout the UAE, Saudi Arabia, India and the UK.
ServiceRobots.com has been inspired by the creativity in the uses of robots around the world that we now have available Service Robots just like Ruby.
From as little as £1949 + VAT to hire per day, the UK is set to explode and follow the international trend of robotic hospitality.
To find out more about all the service robots available to hire, contact the team at info@service robots or call 01384 389317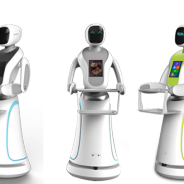 • Food recommendations in buffet or self-service restaurant environments
• Ad Broadcast
• Distribution of leaflets in exhibition halls
• Promotional Support Activities
• Dish Delivery
• Product Recommendation within Supermarkets