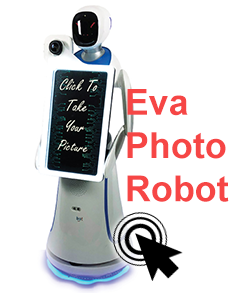 Robot photography can enhance social and corporate functions. It can create a buzz at any event, enables the host and guests to choose the photos that it takes, and offers easy access to functions like social media sharing, but what differentiates a robot photographer from a mobile camera?
Facial recognition
Facial recognition, in this instance, means the recognition of human faces, rather than recognising individual faces. Facial recognition means that the robot will not aimlessly take photos of tables, plants, and other unnecessary subjects. It will identify people, move to get a clear shot, and take the best quality image possible.
Social media sharing
For many people, the joy of having their photo taken at events is in the sharing. Robot photography not only takes pictures, but offers easy access to online sharing, as long as there is an active Internet connection. Guests can check the picture taken, and then use the touch screen controls to choose a social media outlet, and share it with their friends, colleagues, and connections.
Smart map building
Gone are the days of having to program a robot with the exact dimensions and layout of a room in order for them to be able to navigate that room safely. Modern service robots use smart map building technology, and a host of sensors and actuators, to determine the layout of the room themselves. This also means that items can be moved, so something as simple as moving a chair out from under a table won't cause the robot to stop its path.
Obstacle avoidance
As well as building its own map of the room, the robot also needs to be able to respond to environmental changes. Using infrared and other sensors, the robot photographer determines where items are placed, and then identifies a path around the obstacle. Guests won't get shunted by a robot with a camera as they're trying to enjoy drinks or eat their meal.
Robot photography will cause a buzz with guests, but the robot itself operates in such a way that it will not stand out or cause obstacles. Enhance your guests' experience at any event, be it social or corporate.
https://www.servicerobots.com/wp-content/uploads/2019/04/eva_photo.png
293
245
Chris Wood
https://www.servicerobots.com/wp-content/uploads/2019/02/LOGO-service-Robots5-300x61.jpg
Chris Wood
2019-06-17 13:59:50
2019-06-17 13:59:50
Robot Photography