It's been a challenging couple of months for the restaurant industry. In all cities from Syracuse to San Jose, we've seen shortages of workers, shortages of supplies, and a constant list of restaurants closing throughout our contemporary food and beverage scene. 
One city that's been through an extremely difficult time of post-pandemic health issues has been Los Angeles, the City of Angels – Los Angeles, California.
Los Angeles is home to not just among the world's most distinctive food traditions on earth but also has a population with various places that operate in places such as West Hollywood, Long Beach, and Little Tokyo. 
With so many things to provide, Los Angeles attracts top talent in the restaurant industry; however, it also has one of the most difficult markets for restaurants that are just beginning to emerge. 
With an average salary per employee of less than $20K and so much competition in the real estate market and patrons, and workers, it's difficult enough to make enough money even in a favorable environment.
In the last few months, several restaurants in the region have been shut down.
A Culture We Can't Afford to Lose
Closing iconic eateries such as Cuties, Cliff's Edge, or Elf Cafe is one of the most challenging aspects affecting the business landscape of this time. 
The long-standing Hollywood communities and communities along the sea have been constructed around these dining establishments, which are cultural hubs.
When they close, the sense of connection and community disappears along with these establishments.
At Service, Robots see restaurants as much more than places to consume food. 
They are a major influence on the daily life of our lives. That's why we're developing automated solutions that provide greater durability to restaurants and enhance the dining experience for their patrons.
From TV to the Table
What better place to test the latest innovations of robots in restaurants other than Los Angeles? 
In the same way that Hollywood has brought us characters like the WALL-E franchise, Chip, Robocop, and R2D2, we're now to return to this apex of American pop culture through real robots that can change the LA restaurant scene and perhaps even bring it back to life like a major Hollywood film that makes you feel good.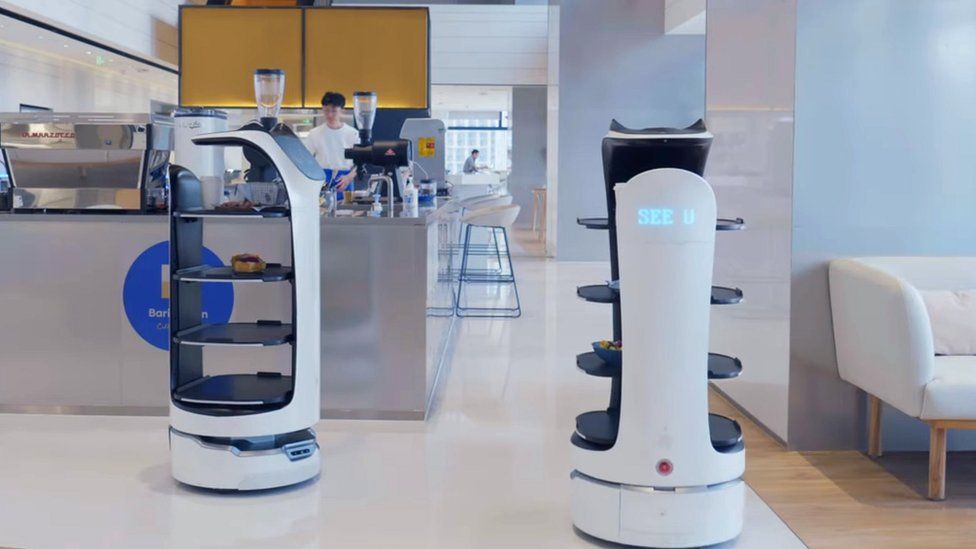 Our most recent automation tool, Service Robots, is the perfect shield against the burdens of the current shortages in staffing. 
Through automation of repetitive tasks, such as the bussing of tables as well as running dishes and the delivery of drink orders, Service Robots can alleviate one of the toughest aspects of the job of servers and give them more satisfaction, which will result in lower turnover and more enjoyable experiences for customers. 
More enjoyable experiences translate into more revenues. This wonderful cycle of bionic coexistence creates an atmosphere that allows more businesses to remain open and thrive in any situation.
Meet Our LA Deployment Partners
Service Robots have come to the scene of restaurants with a major impression in places like Colony Cooks, Tenraku Sushi, La Costa Glen, Denny's restaurants across the nation, and Chili's has their own unique #RitaTheRobot edition of our main solution. 
You might have realized the list of Service Robots employers is just as varied as you can imagine. This is among the best reasons for expansion in this sector. 
It helps us understand exactly where we are and what we can serve as Service Robot in various types of restaurants.
We've already seen outcomes across a range of Service Robot models and patron makeups. What we'll do next is only as wide as the imagination of our minds.
Try Service Robots in Your Restaurant
One of the greatest benefits that we offer in one of the best features we offer with our Service Robot solutions is the ease with which you can integrate them into the daily work and routines of every restaurant. 
This allows restaurants to maximize their capacity to provide more efficient service Robots and better guest experience.