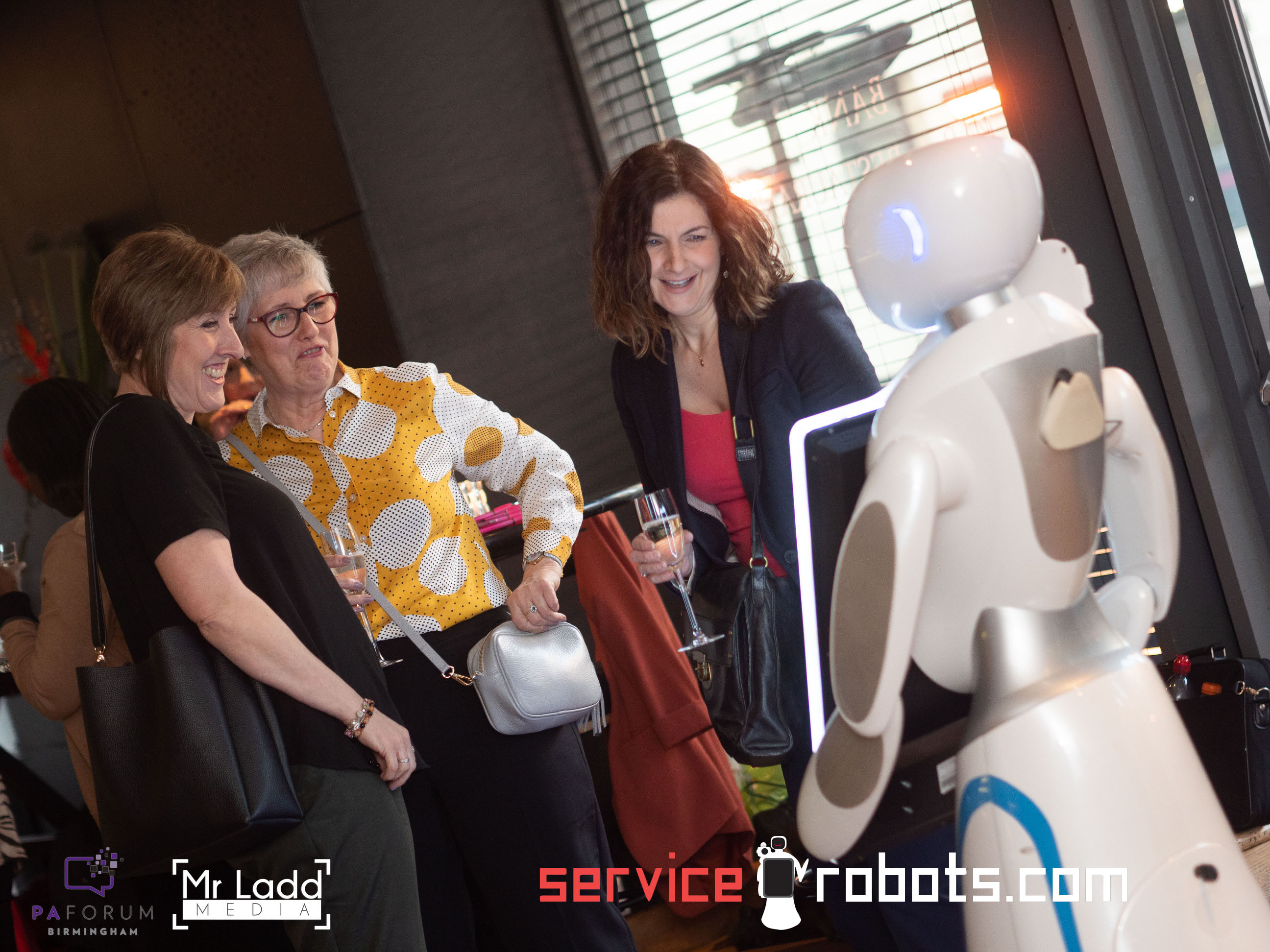 Eva the Photography Service Robot causes a stir at Birmingham PA Forum
Eva the Photography Service Robot captivates attention wherever she goes – and she certainly did recently when she caused a stir at the Bank Restaurant on behalf of the Birmingham PA Forum.
She proved to be a huge hit with attendees, and it's easy to see why!
What makes Eva special
Eva the Photography Service Robot is designed to command attention, thanks to her large 23.8-inch touchscreen which enables event attendees to have their photographs taken. Afterwards, pictures can be printed out at the nearby printing station – or guests can take advantage of Eva's built-in social media integration to upload the photos straight to their profiles!
Eva is particularly great for marketing because both she and her accompanying printing station can be fully branded, depending on a company's needs. At this event, Eva was able to use her facial recognition technology to recognise guests at the Birmingham Bank Restaurant. This allows her to be even more interactive, and really make visitors feel like they're receiving a warm welcome.
Naturally, she commanded the room, helping the Birmingham PA Forum to host a truly memorable evening.
Performance and style
Eva looks futuristic, but she couldn't be easier to configure to the specific needs of a business. She has multiple cases depending on the specific event she's required for – which means she's a compelling addition to any event whether being hired or bought outright.
Eva is easy to use, allowing guests to simply navigate her features through her intuitive menus – all controlled through the large touchscreen. Infra-red sensors allow her to precisely map any new venue she happens to visit, which allows her to navigate the floor with ease – avoiding collisions with obstacles and attendees.
Eva benefits from consistent performance updates to ensure she's as responsive as possible, as the guests at the Bank Restaurant found out!
Available today
If you'd like to hire, or purchase, Eva to help make your next event a huge hit – be sure to contact the friendly and experienced staff at servicerobots.com. We can help you further understand how Eva can benefit your business.